House Kalina invites to rest in a beautiful picturesque village of Falcon, which is located on the left bank of the Dniester River, 10 km from the path Kamenets Podolsky-Chernivtsi. Distance from district center and train station Kamenets Podolsky 25 km.
A perfect mirror of the Dniester, fertile land and unique climate has long attracted settlers from ancient times.
Falcon first mentioned in historical documents 1406r. Near the village stands revealed several middle and late Paleolithic period, remains of settlements Tripoli culture of Scythian and ancient times.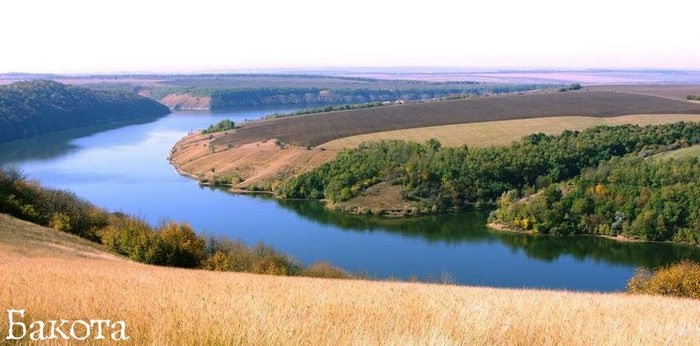 In the early XV century. published in Polish King Jagiello deed on land ownership with komornyka Tomka, to settlements in the tail and, if necessary, its participation in campaigns with their archers. In the seventeenth century. Falcon is divided into parts, so in 1678 he owned the masters Konetspolskyy, Potocki, and sartorial Novoselskaya. Later, part of the village bought Paul petty officers who had astray. The second part of the village had a large crown hetman Vaclav Revutsky.
From the sixteenth century. in the village there was a wooden church of St. Michael, covered with straw, without the dome. Later, in 1788 in the village center, a stone church built in honor of the Archangel Michael. Over time, people built in the east, closer to the river Dniester, and the church remained at the edge of the village.
And also the name of the village Falcon comes from ancient times when people just starting to master the fertile lands of this area. At that time the river Dniester was a small rivulet, which rose around the majestic cliffs called the skill, and many of these rocks hnizduvalosya falcons. Therefore people and started calling this area the Falcon, so there was a village.
It is in this beautiful village is the mansion of the Kalina in which to a good time, it offers comfortable accommodation in beautiful spacious rooms with all amenities, a bathroom, eco-cuisine, secure parking for vehicles at a nice rest of the Dniester, fish soup , boating, fishing and good barbecue - will leave an unforgettable impression.
Taste of spring water in an oak grove that stretches for Tovtry range up to the Dniester, and just listen to the whisper of waves that would benefit a rainbow in the sun.
You can visit two of the wonders of Ukraine, it Kamenets Podolsky Historical Museum Old Fortress and Castle in Khotin, which was removed many historical films, scenes which took place in the walls of these magnificent buildings in which each stone can tell about the history of the events.
And you can visit the cave monastery near the village Bakota, and look at the large and beautiful lake that appeared on the old village town Bakota.
Possible options for recreation all in agreement.
Testimonials:
1. Natalya
July 5, 2007, 13:01
Great otdohnuly in early July. Hospitable hosts, the room cozy, and very raznoobraznaya sыtnaya kuhnya.Nebolshoy, but Net plyazh.Tem, someone looking for recreation from urban noise and zabot - rekomenduem.Mы remained very dovolnы.
2. Lena
May 5 2008, 12:35
Excellent otdohnuly pervomayskye on holidays! Weather summed little, but hozyayka - awesome in the house clean, Uyutno, nature - shykarnaya, in general rayskyy uholok ...
3. Julia
September 13, 2008, 10:28
We are well rested in the mansion. Well-organized leisure (Many thanks Hazyaytsi) - was everything: fishing and boating and barbecue on the river and even burezi riding on the boat. Excellent rest at large. We recommend to all.
4. Lena
May 6 2009, 13:04
Otdыhaly whole of his family on May 01/04. VERY liked. Hosts - wonderful, hospitable. In komnate had a clean and Uyutno. Svetlana is very tasty and sыtno nurtured. Nature - just potryasayuschaya! This is necessarily uvydet you need, because this beauty is opyshesh said. Visited in Kamentse in Hotыne, riding on the horse, went in Chernovtsy, visited Bokachskyy skalnыy monastery. Necessarily pryedem else (child already prosytsya k Tete Svet). Everyone is very recommend! Hosts many thanks, luck and prosperity. C blahodarnostyu for beautiful holidays, leno, Denis and malenkaya Dashenka.
5. Rostislav and Anastasia
May 25 2009, 14:43
Rested in the mansion from 23.05.2009 to 05.24.2009 within our trips Lions - Kamenets-Podilsky. All very nice clean and nice. rooms neat area clean izha delicious. By Kamyanets Podilsky circle 25km dirt road (not a bad way better than most in the Lviv region), the river not far. Got bezproblem make use of GPS navigation. For those who leave will leave estates exact coordinates: N48.52762, W26.64464 hazyaytsi Thanks for the tips on the route given area. Especially liked Bokatynskyy monasteries and nature around him. More photos can be seen from here http://www.drive2.ru/cars/skoda/fabia_i/fabia_i/roha/journal/4053239664633457141/
6. Bolybruh Svetlana
September 30, 2009, 18:33
This summer, my husband and I vacationed in Mrs. Sally. Share skeruvala, so we got to her and apologize. Kinder and more pleasant person we never met. Hospitality extraordinary. House beautiful, everything is for the rest. Warn once, who wants to lose weight does not come out. Svitlana fed delicious and so much soul as you want. Next to beautiful nature and wide richka.Cholovik fisherman was engaged, and I enjoyed a blossoming garden, Ms. Svetlana. Excursions to monasteries and KamyuPodilskyy brought a lot of fun. In our Ukraine is to see. Arrive here will be impressed. We thank Ms. Svetlana. Family Bolibrukh Michael and Svetlana. 07/20/2009 to 07/26/2009.
7. Elena and Sergey
June 15, 2010, 22:08
We got to "Kalinka" first time on holidays in May, just two days, but already from the first minute just fell in love with this magical place. House very comfortable, spacious and tastefully decorated. Very pleased! Pryvitna hostess, delicious food. Sightseeing visited all villages pomyluvalysya scenery, porybalyly. Weight positive emotions - at the price really funny))) Those who want to relax in the heart of Ukraine, go to the Falcon. If you grew up in a village or a small provincial town, you just would sweep memories from childhood: the smell matioly the night court, luxury apple orchards and the ease and rozmirenist rural life. Will come here to hide from the summer heat of the city)))
8. Catherine
12 August 2010, 14:00
Thank you very much Ms. Svetlana and her family for their hospitality, delicious cuisine and excellent conditions for recreation. We wish you good health, prosperity and many guests. Greetings from Kyiv from Catherine, Natalie, and Yrynky Lizochky.